BSU researchers returning to Mount Everest to continue water contamination studies
Ball State University faculty and students are returning to Mount Everest this May to expand their research into how extensively human waste left by climbers is contaminating water resources on the mountain.
Mar 25th, 2015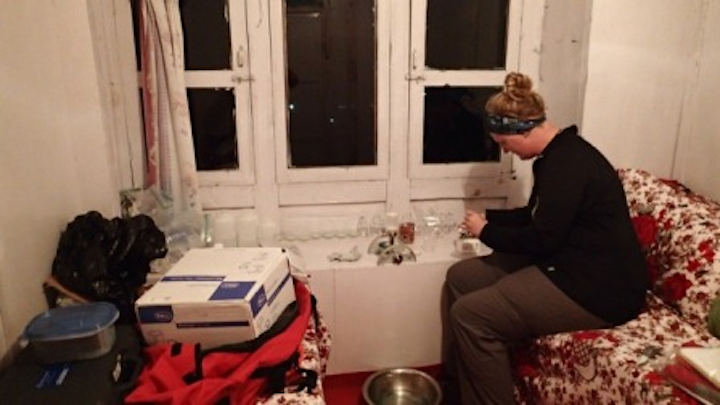 MUNCIE, INDIANA, March 25, 2015 -- Several faculty and students from Ball State University in the city of Muncie, Ind., are returning to Mount Everest this May to expand their research into how extensively human waste left by climbers is contaminating water resources on the mountain. Led by Kirsten Nicholson, a Ball State geological sciences professor, the team will spend several weeks in Nepal to conduct studies as part of the university's Himalayan Sustainability Initiative.
Ball State teams have spent the last several years studying contaminated groundwater that supplies the 900-person community of Khumjung at nearly 17,000 feet (see "Conquering Everest's water contamination problem"). The group will soon seek funding from U.S. agencies and global non-governmental organizations to assist with delivering drilling equipment and establishing water distribution facilities.
"Although the impact is visible, primarily along the more popular trekking routes where non-biodegradable solid waste has resulted in environmental pollution, the effects are also felt in the waterways," Nicholson said. "Unmanaged or poorly managed solid waste disposal and open defecation have resulted in contamination of the major rivers. Sewage and toilet waste can be found piped into nearby streams and rivers, resulting in considerable degradation of major rivers."
She points out that no studies of local groundwater -- the primary source of drinking water -- have been conducted. In the return to the mountain, Ball State researchers will expand their efforts by coordinating with a Nepali graduate student, Sherpas and an area youth group. "We will be working with the Sherpa community to test drinking water throughout the region to determine where there is clean water and where there is not," Nicholson said. "We are also hoping to build a small permanent testing station in the area for the community to use. This work will enable our team to identify polluted water sources and help find new, clean drinking water supplies."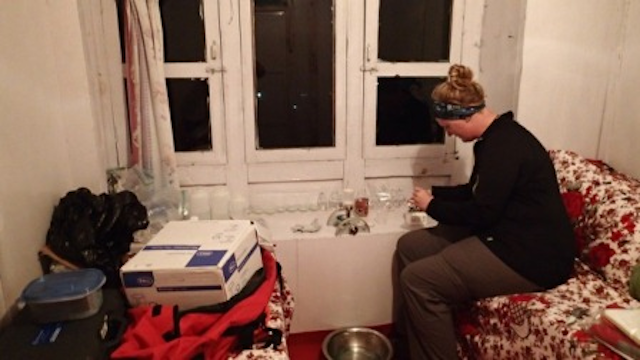 BSU student Emily Hayes working in the "portable" field laboratory at the Valley View Lodge in Khumjung

Since the first ascent in 1953, about 500,000 trekkers have visited the area. The annual number of tourists in the region was 20 in 1964 and rose to peak numbers exceeding 32,000 in 2009 and 2010. In addition to international trekkers, a large number of local people visit the park as porters and guides. "The main three problems are human waste, garbage and deforestation," Nicholson said. "Locally, there has been much work to address deforestation, but human waste and garbage remain a problem, and this has serious negative consequences on the drinking water. Nepal has taken another step by charging climbers of Mount Everest an additional fee to help manage the problem of human waste."
Ball State's research team will also look into global climate change causing glacial melting in the Himalayas and affecting precipitation patterns. Glaciers and seasonal snow pack in the Himalayan Mountains are an important part of the hydrological cycle, forming the headwaters for key sources of fresh water to more than 1 billion people. "We hope to better understand how the melting glaciers will affect drinking water sources," Nicholson said. "By maintaining a focus on water and keeping our methods simple, we hope to achieve several important goals, which will improve our understanding of the regional hydrology and improve the lives of the people living near Everest."
###