Largest SWRO desalination plant in the world operational in Israel
The world's largest and most advanced seawater reverse osmosis desalination plant is now fully operational near Tel Aviv, Israel.

Oct 21st, 2013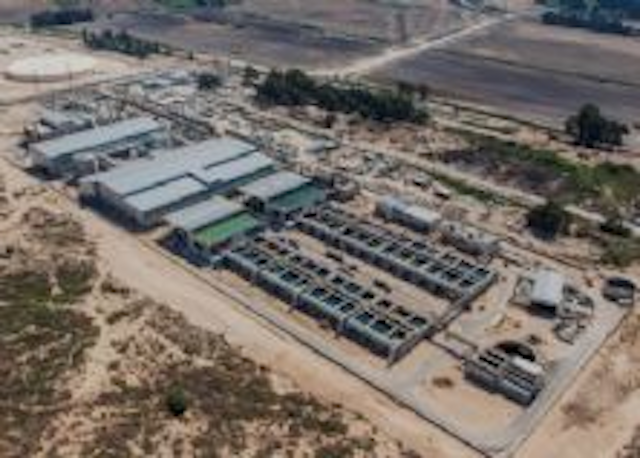 Aerial view of Sorek desalination plant(Photo credit: D&WR)
KADIMA, ISRAEL, Oct. 21, 2013 -- The world's largest and most advanced seawater reverse osmosis (SWRO) desalination plant is now fully operational, announced IDE Technologies.
The Sorek plant is capable of producing 624,000 m3/day (with provisions for future extension) of potable water, of which 540,000 m3/day are currently supplied to Israel's water distribution system. The plant sets significant benchmarks in desalination capacity and water cost, resulting in substantial savings for the local water market while alleviating the country's water shortage problem.
With a financial scope of $400 million and constructed under the Build-Operate-Transfer (BOT) model, the Sorek plant is located south of Tel Aviv, Israel. The plant utilizes IDE's advanced membrane desalination technology including, for the first time in a large-scale facility, 16-inch membranes in a vertical arrangement. This lowers investment costs by decreasing the number of pressure vessels, piping headers and control and instrumentation equipment, as well as increases the capacity of the plant and reduces its footprint.
In addition, the plant's pressure center design reduces energy consumption due to the increased efficiency of large high-pressure pumps and energy recovery devices. Additional measures such as pipe-jacking of long and large diameter pipelines, as well as sludge treatment and its disposal to specific permitted areas, have been implemented to minimize the impact on the terrestrial and marine environments.
About IDE Technologies
A world leader in water treatment solutions, IDE specializes in the development, engineering, construction and operation of some of the world's largest and most advanced thermal and membrane desalination facilities and industrial water treatment plants. IDE partners with a wide range of customers – municipalities, oil & gas, mining, refineries and power stations – on all aspects of water projects, and delivers approximately 3 million m3/day of high quality water worldwide. With industry-leading technology, financial flexibility, creative thinking and high expertise, our proven track record spans 400 plants, 40 countries, and 4 decades. For more information, visit www.ide-tech.com.
###