Purdue University, partners celebrate joint creation of process education laboratory
The Purdue School of Engineering Technology has announced the creation and development of the Purdue Integrated Process Education System laboratory.
May 8th, 2015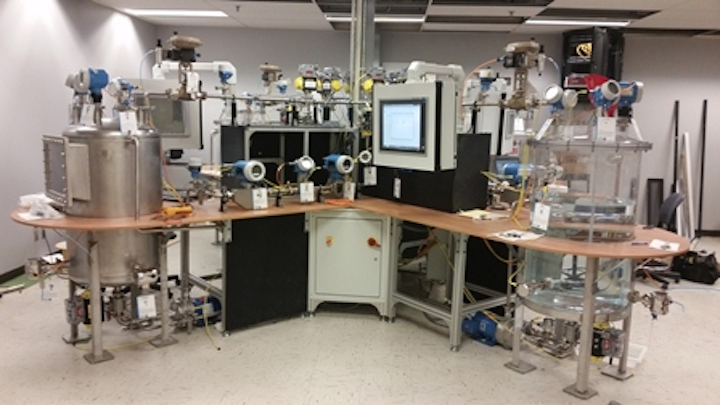 May 8, 2015 -- During a recent open house hosted at the Purdue School of Engineering Technology in West Lafayette, Ind., students and faculty of the Manufacturing Engineering Technology (MFET) program celebrated the joint creation and development of the Purdue Integrated Process Education System (PIPES) laboratory.

The fully operational system was designed and constructed during a year-long capstone project undertaken by senior students of Purdue's Integrated Manufacturing course sequence. Beginning in the fall of 2015, the system will be used to teach process measurement and continuous control, mostly from a technology and implementation perspective.
Through support and donations from industry partners Endress+Hauser, Rockwell Automation, George E. Booth Co., Kirby Risk Corporation, and other suppliers, Purdue will be the new home to a state-of-the-practice process education lab for students. Donations to the university included process measurement instrumentation, a control system, control panels, servers, hardware, piping, large industrial water tanks, pumps, valves, cabling, and engineering guidance.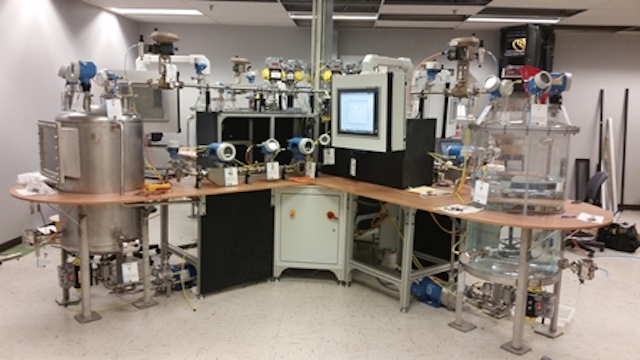 Purdue Integrated Process Education System (PIPES) laboratory

"Our School of Engineering Technology (SOET) faculty are already in the process of designing the first course that will be available to students in all SOET programs," said Brad Harriger, MET Professor at Purdue University. "The system will provide a key platform for exploring fundamental concepts of process control in our laboratory," added Grant Richards, Purdue ECET Professor.
The SOET programs include Manufacturing Engineering Technology, Mechanical Engineering Technology, and Electrical and Computer Engineering Technology. Further, a long-term goal is for the PIPES lab to be used for summer workshops available to industry -- taught by both faculty and industry representatives -- where practicing engineers would visit the university for two to five days to learn about and experience process control integration.
By partnering with Purdue University, the supporting companies strive to increase student exposure to fulfilling careers in the process industries and build sustainable industry connections. Many times, students fail to recognize the diverse career choices available to them as new roles emerge through new technologies. Additionally, these academic teaching programs augment hands-on industry competencies and positively impact the problem-solving abilities of students through real-world practice.
See also:
"World Water Day 2015: Purdue researchers pursuing technologies to address water safety, drinkability"
"A Sunny Solution: Disinfection Prototype Harnesses Sunlight, Aims to Provide Clean Water to Developing Nations"
###