Documentary explores innovative green solutions, addresses nation's water blues
A Penn State documentary explores how U.S. cities are adopting green solutions for aging infrastructure, stormwater runoff and droughts.
Jan 30th, 2014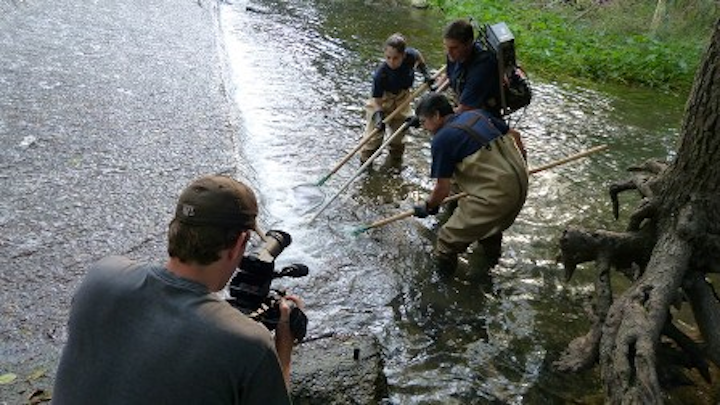 UNIVERSITY PARK, PA, Jan. 30, 2014 -- A new interactive documentary created by filmakers at Penn State University's Public Media explores how cities across the country are adopting innovative green solutions for their water blues such as out-of-date water infrastructure, stormwater runoff and record-breaking droughts.
"Water Blues, Green Solutions" takes viewers on a journey to cities like Philadelphia, Portland, San Antonio, and the Bronx showcasing communities that are using green infrastructure -- land conservation, green roofs, rain gardens, porous surfaces, and other methods -- to remedy the challenges of flooding, pollution and scarcity.
The film has been distributed to public broadcasting stations nationwide, and additional airdates will be listed on the Water Blues website as they become available. Airdates have already been confirmed in Los Angeles, Denver and Kansas City. "We want Water Blues to attract a national audience to move people to think differently," said Frank Christopher, the film's director, producer and writer. "I want people to ask the question, 'Why aren't we doing that?'"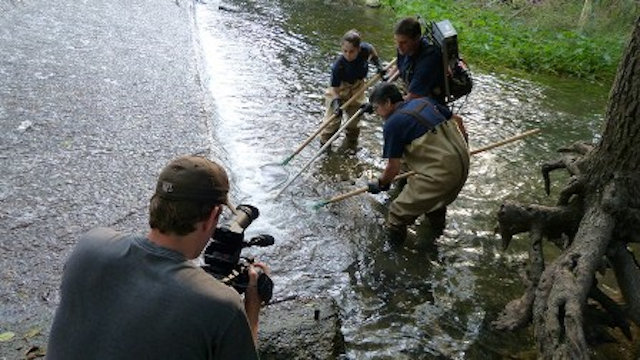 Director of photography Mark Stitzer of Penn State Public Media films scientists from the San Antonio River Authority testing for water quality. (Photo credit: Penn State Public Media)

Penn State Public Media has launched an in-depth website that allows visitors to create their own virtual experiences of the film's locations and themes. Loaded with extra footage and new, interactive ways to explore water blues, the site additionally includes an online toolkit designed to help organize and promote screenings. Stories produced by public radio stations across the country through the project's grant initiative can also be found online.
As part of Penn State Public Media's outreach efforts, the 60-minute film is also available for community screenings and events. Several screenings have already been scheduled for Philadelphia, Pittsburgh, Washington, D.C., and San Antonio, among others. The "Water Blues, Green Solutions" documentary and related outreach efforts received major funding from Colcom Foundation and Subaru of America, with additional support from William Penn Foundation, National Association of Clean Water Agencies (NACWA) and Park Foundation.
For more information, visit the "Water Blues, Green Solutions" website at www.waterblues.org.
###