Progressive Cavity Pumps Handle NaOCI Metering Challenges
The Zone 7 Water Resources Agency in Alameda County, CA, has been using progressive cavity (PC) pumps since 1999 to handle aqueous ammonia and sodium hypochlorite solutions.
Sep 1st, 2003
The Zone 7 Water Resources Agency in Alameda County, CA, has been using progressive cavity (PC) pumps since 1999 to handle aqueous ammonia and sodium hypochlorite solutions. The agency recently added additional PC pumps when it began using on-site sodium hypochlorite generation to handle increased demand during months of high water use.

Typical arrangement for a PC metering pump on NaOCl service: HDPE body, titanium internals, single silicon carbide mechanical seal and variable speed drive.
Click here to enlarge image
The Zone 7 staff began the switch to progressive cavity pumps after experiencing repeated maintenance problems with the reciprocating pumps being used at the time to pump its sodium hypochlorite solutions, according to Dave Parola, Water Facilities Supervisor.
"Reciprocating pumps are prone to vapor lock, which can shut down a pump for hours. They are also very complicated, and repairs are labor intensive," he said.
To help solve the problem, Misco Pacific Water Treatment, a local representative of water and wastewater treatment equipment in Pleasanton, CA, recommended several models of progressive cavity metering pumps manufactured by seepex, Inc.
In operation, a PC pump's single external helix rotor turns within a double internal helix stator to form cavities which progress from the suction to the discharge end of the pump. The continuous seal between the rotor and the stator helices moves the fluid steadily, without valves, at a fixed flow rate proportional to the rotational speed of the pump.
Zone 7's seepex metering pumps are designed with molded-to-size Hypalon stators and corrosion resistant titanium internals capable of handling up to 15% sodium hypochlorite (NaOCl) solution. With a 17:1 turndown ratio, the pumps are highly responsive, uniformly metering the precise amount of NaOCl consistent with water flow rate. The pumps are configured for 70 psi discharge pressure, and are proportioned electronically via a magnetic flow meter at the water well.
After successfully switching to PC pumps for sodium hypochlorite pumping, Parola explored the possibility of using the pumps for metering a chloramine solution used at six of Zone 7's wells.
Zone 7 injects a chloramine solution, consisting of 1 part aqueous ammonia to 4 1/2 parts sodium hypochlorite, into the water. Chloramination enhances water quality by reducing trihalomethanes and by stabilizing the NaOCl so its effect lasts longer. Because ammonia can be a problem for metering equipment, Parola asked Misco if seepex could help. Misco recommended seepex MD range pumps similar to the NaOCl pumps, designed with stainless steel internals and EPDM stators.
Parola prefers the PC metering pumps because they can pump against high pressure without pulsating, a constant problem with reciprocating pumps. Additionally, "The in-line power train is so simple," he said.
An added plus is the simplicity and the ease of replacing parts when they are needed. "These pumps are very easy to work on," said Steve Yonkman, a member of Zone 7's maintenance staff.
After three years of operation, the PC pumps used for NaOCl and NH3 metering have been virtually trouble-free.
When the district decided to begin using on-site sodium hypochlorite generation, Parola again turned to Misco.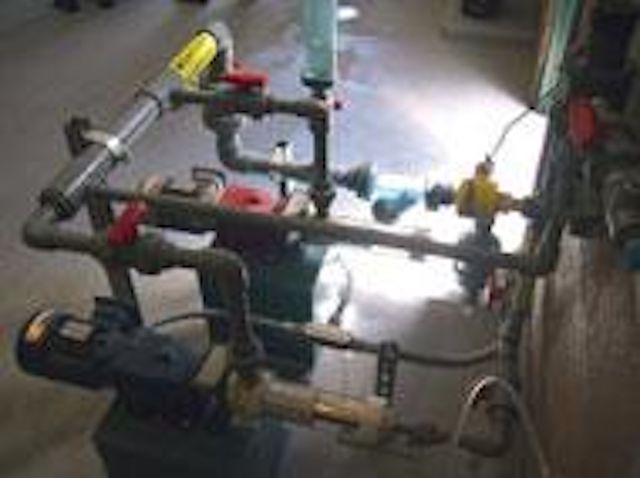 Two metering pumps for on-site generated NaOCl feeding into the discharge line of a vertical turbine pump. The pumps are slaved through a VFD and PLC to a magnetic flow meter to maintain proper chemical proportioning. A low flow switch and calibration tubes are also shown.
Click here to enlarge image
Misco recommended an on-site sodium hypochlorite generation system manufactured by Clor-Tec, a division of Severn Trent Services. The system makes sodium hypochlorite from water softener salt and water. Both are fed into a brine dissolver; the resulting 30% brine solution is then diluted further to a 10:1 ratio, yielding a 3.0% salt solution.
This solution is passed through electrolytic cells which pass a low level DC current into the brine.
The result is a 0.8% solution of sodium hypochlorite, produced on site in a very small space.
The NaOCl is stored in a nearby tank designed to accommodate a predetermined amount of solution, usually enough to last one or two days.
A system of controls and remote telemetry determines when the NaOCl should be replenished, and a new batch is automatically generated, assuring a fresh and continuous supply.
The NaOCl can then be metered into water as needed on its way to the county's customers.
Zone 7 purchased additional seepex PC metering pumps to dose the on-site generated .8% NaOCl solution.
In all, the district now has 19 seepex metering pumps on location.
Summary
The seepex metering pumps for dosing the 121/2 % NaOCl and the NH3 have been in place at Zone 7 since 1999; the Clor-Tec .8% sodium hypochlorite regeneration system with its new metering pumps has been in place since 2001. All are performing beyond Parola's expectations for reliability, economy, and effectiveness.
He noted that Zone 7 will purchase three additional seepex pumps this year.