Case Study: OK water district updates distribution systems with isolation valves
OK's Foss Reservoir Master Conservancy District improved its water distribution after pipeline repairs were made that included the installation of Mueller/Pratt Butterfly 150B 18-, 24- and 30-inch 150psi butterfly isolation valves at each point where a line enters a city.
Jun 3rd, 2014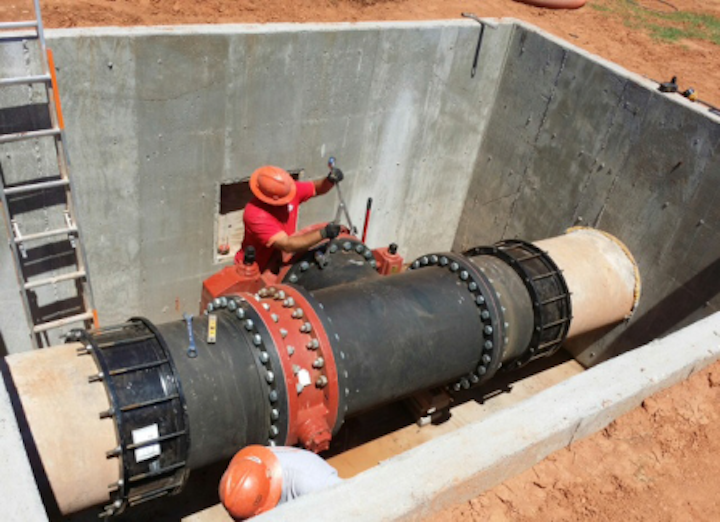 June 3, 2014 -- The Foss Reservoir Master Conservancy District (FRMCD) in southwestern Oklahoma resides at 8,800-acre Foss Reservoir/Foss Lake. The treatment plant, located adjacent to the Foss Dam, pumps water from three pumping stations through 50.8 total miles (81.8 km) of concrete transmission lines, all built from 1958 to 1961. FRMCD serves 17,000 consumers in several towns.
The Problem

The concrete bar-wrapped tongue-and-groove pipe transmission lines that carry water to these towns are aging. FRMCD, as well as many other government-constructed water distribution systems developed in postwar years, sorely lacked funding to install main valves in their systems to isolate the towns being served. With the passage of time, erosion of the concrete pipe caused leakages. High pressure and reverse flows caused fittings failures and, until recently, whenever a leak occurred, standard operating procedure necessitated shutting down the entire system to make repairs. Clearly, a more effective alternative was needed for uninterrupted water delivery.
The Solution
Beginning late-2013, pipeline repairs were made at FRMCD that included the installation of Mueller/Pratt Butterfly 150B 18-, 24- and 30-inch 150psi isolation valves at each point where a line enters a city. Designed specifically for the waterworks industry, Pratt butterfly valves offer the ruggedness and reliability required for buried service. The body-mounted elastomeric seat has ridges, which provide multiple sealing lines and permit higher levels of radial compression. As a result, stress in the seat material is reduced, allowing lower
seating torques and optimal sealing action.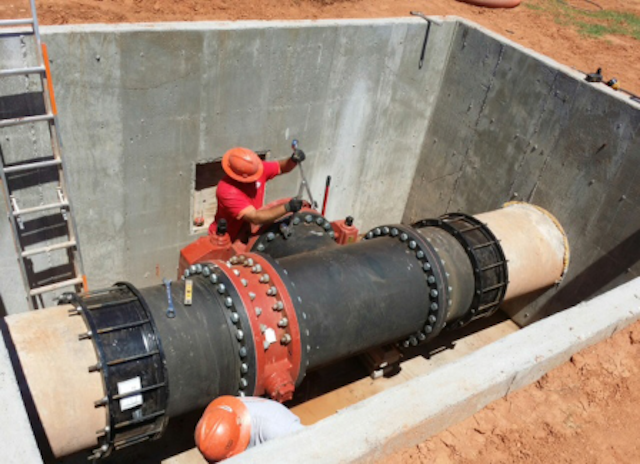 Mueller/Pratt Butterfly 150B 18-, 24- and 30-inch 150psi isolation valves were installed at each point where a line enters a city. (Photo credit: Mueller)

The aging water towers and water storage tanks at FRMCD also required periodic maintenance, requiring shutdown of their individual supply lines and emptying of the particular vessel. In addition to Mueller/Pratt valve installations at locations where water mains route to the towns served by FRMCD, Mueller/Pratt valves were also installed at tees within concrete vaults, where transmission lines lead to water towers and tanks. This arrangement permits continual flow of water throughout the rest of the system while supply lines to and from each vessel can
be independently closed as needed.

Within the past two years, drought has plagued the area, causing a significant portion of Foss Reservoir to run dry. The lake is currently 16.5 feet (5 m) low, and only one of the four intakes is supplying water. Naturally, greater control of water delivery to consumers within the system has become more critical. However, due to the system improvements cited above, no customer is without water in the district.
Another significant benefit has been realized with this program: whereas many of the projects of this type have necessitated procurement of special projects funding to make repairs and improvements, this project has been completed on a routine, scheduled basis under the maintenance category, using funds which come out of the existing maintenance budget.
Conclusion

Water is now flowing uninterrupted to consumers whether or not maintenance is performed at points within the system. All design and project objectives of the repair and improvements program at FRMCD have been met or exceeded. Turnaround times for repairs and installations have been short, and there have been no problematic hitches in the program. The case can be made for the advantages of this same type of improvement program for all similar water distribution systems.
See also: "Ionics' Okla. installation inaugurates third generation EDR technology"

About Mueller Company

Mueller Company supplies water distribution flow control products, including service goods, hydrants and hydrant security, valves, pipe couplings and repair products, machines, and tools. Its products are used throughout the water system from source to customer The company catalogs thousands of items to suit the needs of virtually any water system application and for use with any water main or service line pipe material. For more information, visit www.muellercompany.com.

###