Evoqua to supply field-erected wastewater treatment plant in Key West
New equipment will help KW Resort Utilities Corp. meet future capacity and nutrient removal requirements in a fragile marine environment.
Nov 28th, 2016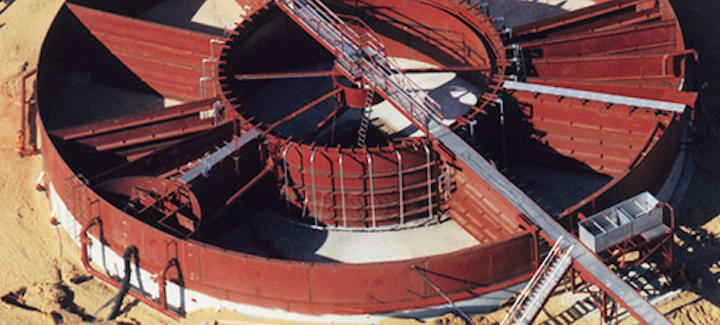 DAVCO field-erected treatment plants are available in a variety of configurations, including activated sludge processes, sequencing batch reactors, and oxidation ditch configuration. Photo:Evoqua.
PITTSBURGH & KEY WEST, FL, NOVEMBER 28, 2016 -- KW Resort Utilities (KWRU) Corp. of Key West, Florida has selected Evoqua Water Technologies through its sales partner Heyward Florida Incorporated for a project to expand KWRU's existing biological wastewater treatment capacity in Key West to meet future capacity and nutrient removal requirements in the region's fragile marine environment. The project will include the installation of a DAVCO™ Field-Erected Biological Treatment plant, expanding capacity by 350,000 gallons per day (GPD). The existing facility currently treats 500,000 GPD.
The three-stage Biological Nutrient Removal (BNR) activated sludge plant includes steel outer walls 90 feet in diameter and 20.5 feet high. Evoqua will supply steel tanks, internal components for the wastewater plant, field erection, field painting and commissioning.
This plant is a continuation of 33-year relationship between KWRU and Evoqua's DAVCO product support team that began in 1983, when Evoqua supplied a 250,000 GPD extended aeration DAVCO Field Erected Treatment Plant. In 1997 a second identical plant was erected, doubling the capacity to 500,000 GPD. In 2007 a 56,000 gallon stand-alone clarifier was erected and the two existing plants were converted into a three-stage Biological Nutrient Removal process as effluent requirements became more stringent. The new 350,000 GPD plant is expected to start up in early 2017 giving the utility a total treatment capacity of 850,000 GPD.
"We're thinking about our future in this densely populated, fragile marine environment," said KWRU president Christopher Johnson. "Evoqua has helped make great progress in addressing our community's needs over the last 33 years, and we expect this project to help us to continue to meet those needs for 33 more."
About DAVCO™ Field-Erected Treatment Plants & Services
Evoqua, through its DAVCO product line, is an industry leader in the manufacture and installation of water and wastewater treatment equipment and systems including field erected biological treatment plants, screw pumps, filtration equipment and clarifier rehabilitation. The DAVCO product line is supported by experienced project teams that have been working with municipalities, developers, and engineers for over 50 years to deliver turnkey treatment projects in as fast as six months. The single source approach integrates industry-leading expertise and equipment with design, steel fabrication, field installation/construction, commissioning services. For more information, visit www.evoqua.com/davco.
About Evoqua
Evoqua Water Technologies is the global leader in helping municipalities and industrial customers protect and improve the world's most fundamental natural resource: water. Evoqua has a more than 100-year heritage of transforming water and wastewater through innovation and industry firsts, market-leading expertise, and unmatched customer service. Its cost-effective and reliable treatment systems and services ensure uninterrupted quantity and quality of water, enable regulatory and environmental compliance, increase efficiency through water reuse, and prepare customers for next-generation demands. Evoqua's unparalleled portfolio of proven brands, advanced technologies, mobile and emergency water supply solutions and service helps cities across the world provide and discharge clean water, and enable leisure and commercial industry to maximize productivity and profitability. For more information, visit www.evoqua.com.
RELATED ARTICLES
Frost & Sullivan names Evoqua top for mobile service
Evoqua's technology selected for wastewater treatment in St. Clairsville, Ohio
Evoqua's Neptune Benson acquires Delta UV