Digital Communication Improves Remote Monitoring
The City of Austin Collection System Services has found remote monitoring reduces much of the time and labor expenses associated with maintaining hundreds of flow meters throughout the collection system.
Jul 1st, 2003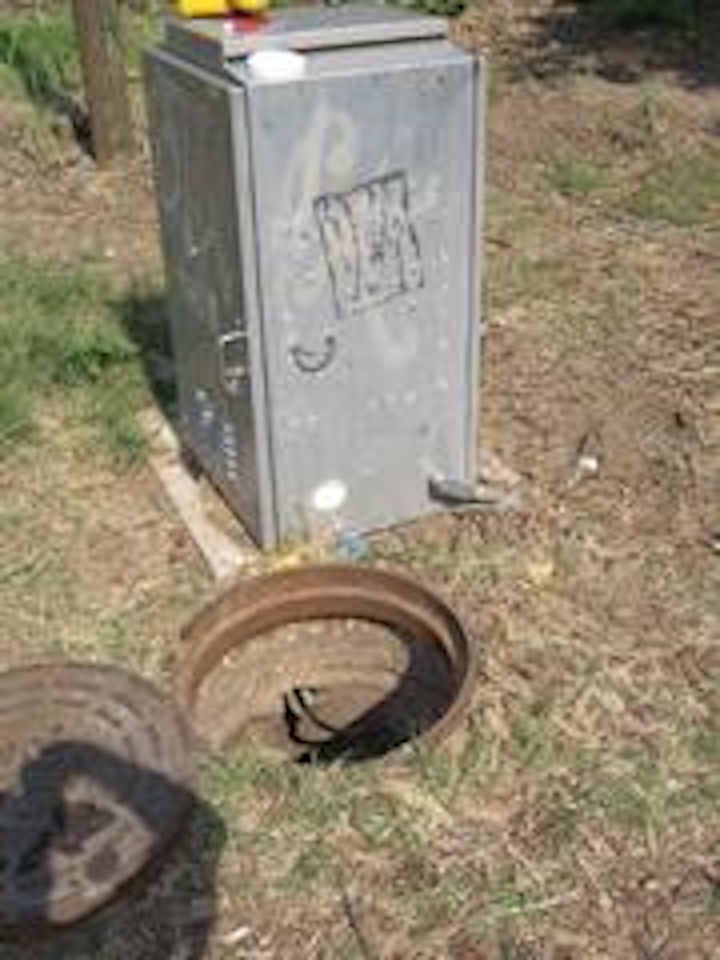 The City of Austin Collection System Services has found remote monitoring reduces much of the time and labor expenses associated with maintaining hundreds of flow meters throughout the collection system. Evaluation of a newly available digital wireless communication system by department staff has demonstrated a higher level of transmission dependability, compared to analog wireless communication.
Perhaps more valuable, however, is the ability to make efficient resource-deployment decisions – made possible by real-time monitoring data. Municipalities large and small face ever-increasing demands due to regulatory requirements, and knowing where and when to direct department manpower and resources can put any municipality or district in a better position to address compliance issues.
Existing System
Like many cities, Austin relies on remote monitoring to collect dynamic data sourced throughout its system. Robert Cameron, Engineering Technician C, once a week downloads flow and level data via landline-based communication from 80 permanent flow meters, along with similar data via analog cell phones from five additional sites that cannot be reached by landline.
A field crew of three technicians visits another 200 temporary monitoring sites, once a week, to collect data and assess flow meter status. Complicating the process are those sites in downtown traffic areas, where monitoring visits must be scheduled before 6 a.m. and after 7 p m. and require up to an extra hour to set up and tear down traffic control signs and cones.
While remote collection system monitoring is safer and appears more efficient, compared to in-person site visits, Cameron explained the limitations his department has experienced with remote monitoring.
With analog cellular technology-based systems, communication is only as good as the signal line and strength, which varies widely throughout the system.
"And, these systems have shown themselves to be real power hogs," Cameron said.
He described the data transmission situation as dismal when the weather is gloomy: during cloudy and wet weather periods — when the department wants most to garner complete information from the meters so that it can closely monitor for overflow or Infiltration and Inflow situations – the analog cellular communication systems quickly drain the deep-cycle (12V) marine batteries normally charged by solar panels, resulting in reliability issues. Further, disconnects during transmission — or failure to disconnect after transmission — are common with the analog wireless cell phone systems.
Alan Nichols, Pipeline Investigator Senior, added that the reliability of landline-based communication can suffer from accidental disruptions.
"We've lost connection with at least five sites over the last two years because of cables inadvertently cut by project contractors. And, lightning strikes frequently knock out the landline modem in the flow meter," Nichols said.
Digital Technology
Looking for a better solution for remote monitoring, the city evaluated the recently introduced Sigma 1000 wireless remote monitoring system from Hach Co. The system collects data from a Sigma open-channel flow meter or automatic sampler via RS232 connection and transmits that data to a modem, using GSM (Global Standard for Mobile Communication) digital wireless technology.
The Austin group put the digital system to test on a difficult-to-access site on the eastern outskirts of the city, about 20 miles from the department's downtown office. The Austin site is located in a valley and guarded by a deep creek that limits access to a footbridge. Dependable data collection from this site is significant, however, because it is an interceptor for the collecting basin.
During the system's evaluation, Cameron dialed to the Sigma 1000 unit once a day, at different times of the day. He consistently made connection with a single dial up and successfully downloaded complete data reports.
And technicians did not observe the power drain typically experienced with analog cell phone transmission. Cameron reported they replaced the lantern-type batteries internal to the Sigma 1000, serving as back up for the deep-cycle battery, about once every two months. Installation was straightforward:
"It pretty much entailed installing the batteries, hooking up the antenna, and attaching the modem to the computer in our downtown office," he said.
Operators put a second unit of the Sigma 1000 to test on other permanent and portable flow meters located at various points within the collection system, including within the city. Cameron said they found the unit's dome-type, or turtle, antenna worked well from within the metal box housing the unit, and from points that had demonstrated varying signal strength with analog wireless communication.
"Now we're investigating a traffic-rated antenna so we can install a unit directly in a manhole downtown," he added.
The Sigma system features two-way communication. During setup, the city deploys a crew for initial programming of the flow meters —in order to calibrate the level parameter against an on-site physical measurement. Afterwards, Cameron can adjusted meter setup, changed meter time settings, and restarted meters when they stop logging due to power failure — all from his office.
If needed, he also could use the Sigma 1000 system to connect to flow meters from a wireless modem in a laptop computer.
Conclusion
Obtaining flow and level information reliably can help Austin Collection System Services use crews and resources efficiently, where and when needed.
"We know now we could remotely access data from a critical flow meter at least once a day during wet weather, and that information would help us make good decisions about taking action, if needed, to minimize an overflow or mitigate an I&I incident," Cameron said.
"This digital wireless system not only eliminates the maintenance associated with physical disruption of landline-based systems, but it's also a good solution for areas not available to landline communication and to those areas difficult to access," he said. "We can collect more data, more reliably, from a critical site and make more efficient use of manpower to support regulatory compliance."